For centuries, people have created art with sand. The finished product and the purpose of the art has varied, but the beauty is never forgotten.
Try your own art with sand at home!
Keith has developed a unique technique of sand painting where he creates the sand painting 'dry' and then 'sets' the sand with a blend of adhesives to ensure the painting endures for a lifetime. Some of his artwork has been hanging around for more than 35 years! A steady hand and specialised tools allow him to blend and create with his collection of rare and beautiful, natural-coloured sands.
For many years Keith ran stalls at school fetes for children to fill up bottles of coloured sand, every one a unique creation, and sold individual sand painting kits with natural-coloured sand. A limited number of kits are available so you can try creating your own art with sand at home.
Click here to contact Keith and purchase your very own limited edition sand painting kit. Full instructions are provided.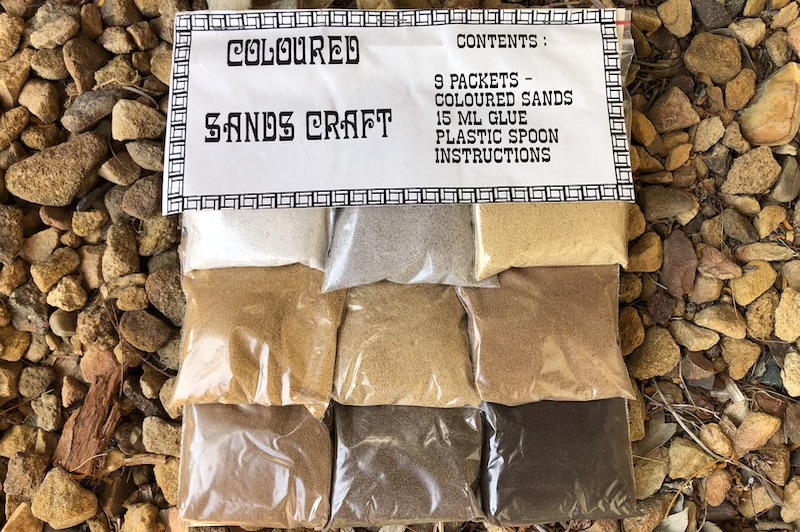 Coloured Sand Art
The Navajo Indians created sand art pictures for healing purposes. These pictures were temporary, created by a Medicine Man, and belonged in sacred ceremonies that were thought to remove illness and reestablish harmony in a persons life.
Other forms of sand painting have been used by Tibetan Buddhist monks, Japanese artists and Indigenous Australians. Around the time of King George III, coloured sand and coloured sugars were used to create pictures on white tablecloths at royal banquets, by artisans called Table Deckers. The sand was brushed with feathers to create the table decorations. These were initially temporary but over time the artists worked to 'fix' the sand so the sand pictures could be appreciated more than once. The process was however not very enduring and the pictures only lasted a few years.
In the late 19th and early 20th centuries, Flemish people used white sand to decorate floors in their houses for celebrations. The sand was swept over tiled floors using a broom to create patterns for the day of the celebration and then swept away the following day.
Today, Keith uses all naturally coloured sands, sprinkling grains at a time to create his unique and rare sand paintings.
…